Installing and Replacing Chimney Caps & Covers in Greater Cincinnati
Protect your chimney with this affordable answer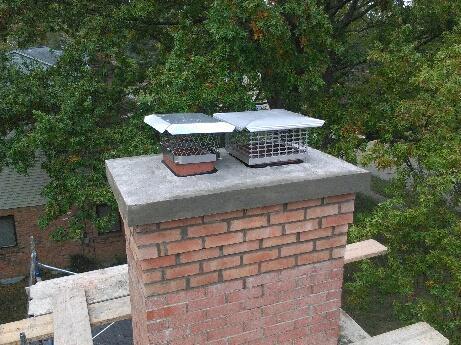 Chimney covers and caps protect the interior of the chimney from damaging rain and ice, while still allowing for the proper ventilation that the chimney was designed to provide.
It is important to have a chimney cover that is in working condition. Bone Dry Roofing can inspect the condition of your chimney cap or chase cover and install a new one if necessary. Our trained experts have experience and skills necessary to work with caps and covers of all types and sizes.
If you want to protect your property and prevent water damage to your chimney, having a chimney cap or chase cover installed is the most affordable preventive measure you can take. When your roof has a chimney cap and chase cover, they will prevent leaves, other debris, and animals from getting into your chimney flue and causing expensive damage or hazardous blockages. This isn't just to ensure that your property is protected, but also your safety. It should be a priority to have your chimney inspected every year to guarantee that your chimney cap or chase lid is in proper, working condition.
If you are in need of having your chimney cap or chase cover inspected by one of our experienced technicians, call or click below to request a free estimate today!
Before and After
Before

After

The crown on this chimney was old, cracked and deteriorated. We removed the crown and replaced it with a new crown. The chimney looks great!

Before

After

The crown on this chimney was completely broken! Our inspection wasn't entirely necessary but we always take extra precaution and provide attention to detail. We removed what was left of it and replaced it with a new concrete crown. Now it's in fantastic shape and will protect the chimney properly!

Before

After

This home in Cincinnati had a damaged mortar chimney cover. Our team inspected the damage and came up with the perfect solution! We repaired the chimney crown with a new stainless steel chase lid, and the finished project looks great! Our client can rest easy knowing they have a lasting solution in place.

Before

After

This resident of Cincinnati had a chimney that was weathered from years of exposure. After a detailed inspection and explanation of our plan, we removed several courses of brick on this chimney and replaced it with new brick. We installed a new concrete crown to seal the deal, and this structure is looking new again!

Before

After

We tore down the top 10 courses of brick and rebuilt it. We also poured a new concrete crown. This resident now has a gorgeous new chimney!

Before

After

The chimney on this home had seen better days. Our specialists came out and decided that it would need to be worked on so that the homeowner could avoid costly damages down the road. We replaced the cap and repainted the chimney. Just look at the difference it made!

Before

After

Protect your chimney with a functioning crown. This chimney was in rough shape until our team of professionals stopped by! We removed the old and damaged crown and then installed a whole new one. Now the chimney is properly protected for years to come.
Why is it important to maintain your chimney cap?
Something as simple as a chimney cap or chase top is extremely important to the safety of your family and the lifespan of your chimney. When properly maintained, your chimney cover provides multiple benefits:
Prevents mold and moisture damage by shielding away rain and snow
Stops wildlife, such as birds and other animals from nesting in your chimney
Installing a spark arrestor on your chimney cap prevents sparks from leaving your chimney and potentially starting fires
Reduces problematic wind downdrafts that pushes smoke back into your home
What is the difference between a chimney cap and chimney chase cover
Chimney caps and chase covers provide similar benefits, keeping water, debris, and animals out of your chimney flue.
A chimney cap is a metal topper that covers the opening of your flue. Chimney caps also prevent burning embers from landing on your roof and other nearby flammable objects.
A chase cover generally comes standard with a pre-fabricated or factory-built fireplace. The chase cover fits over your chimney chase to seal the flue. A rusty chimney chase top can cause discoloration on your chimney.
Chase top designs & types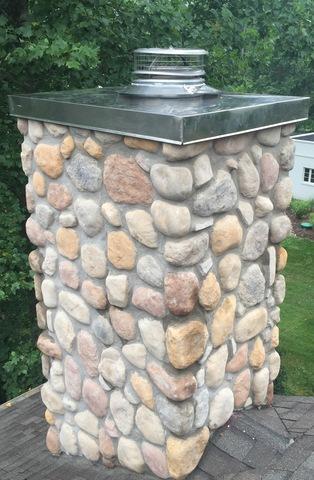 Due to their low requirements of maintenance and their long lifespans, stainless steel chase covers have become a popular choice for homeowners.
when a chase cover comes standard with a pre-fabricated fireplace, most of the time it is made with cheap galvanized sheet metal that will rust and likely need to be replaced every 7 to 10 years. The most popular materials used to construct chimney chase tops are galvanized steel, copper, stainless steel, and aluminum.
Bone Dry Roofing recommends stainless steel chimney caps and chase covers above the other materials due to its low cost and excellent durability. Stainless steel is corrosion resistant and nearly rustproof, which means stainless steel chimney caps and covers require little to no maintenance. We offer chimney covers and caps in a variety of sizes and colors and will install a chase top to match the exact specifications of your chimney chase.
Contact us for a free chimney estimate today!
Nothing destroys a chimney faster than water damage. A damaged or deteriorated chimney chase top or chimney cap allows in water that will only further the damage. Contact the masonry experts at Bone Dry Roofing today to have your chimney inspected or to get a free estimate for chimney cap replacement in Loveland, Fairfield, Middletown, West Chester, Ft Mitchell, Mason, Miamisburg or nearby.
Looking for a price? Get a no cost, no obligation free estimate.