Expert Chimney Inspections in Cincinnati Area
Annual inspections & maintenance services protect your property
A chimney inspection is a wise investment for homeowners. Inspections can help you uncover safety hazards, as well as, reduce your risk of starting chimney fires. The National Fire Protection Association (NFPA) recommends that you have your chimney inspected every year. Even if you don't make regular use your fireplace, it's important to have your chimney inspected to check for hidden damage such as cracks, leaks, pests and structural problems. Finding and stopping a small problem early own can save you money and possibly your life.
At Bone Dry Roofing, all of our trained technicians are fully qualified to inspect and repair your chimney. Contact us today to schedule your annual maintenance appointment in Dayton, Cincinnati, Hamilton or nearby.
Before and After
Before

After

The chimney on this home needed to have some tuck pointing done. The old joints were cracked and some were deteriorated. Our masonry crew ground out the old mortar and installed new mortar.

Before

After

A few tuck points on this chimney needed to be ground out and filled in with new mortar. Tuck points that are cracked and worn allow water to penetrate into the brick causing it to crack and deteriorate.

Before

After

This chimney was in need of some repairs! The crown was cracked and the top 2 courses of brick needed replaced. We removed the old cracked crown and top 2 courses of brick. We rebuilt the top 2 courses of brick, replaced the flue and poured a new crown.

Before

After

This chimney was in rough shape when we arrived! Our inspection identified that the chimney crown was essentially about to fall apart, so we explained the situation to the homeowner and how we would fix the problem. We removed and old concrete crown and replaced it with a new crown. Now the chimney crown is back in perfect condition!
What are the benefits of getting a chimney inspection?
Every year, ignored chimneys cause a shocking number of injuries and deaths as well as $200 million in property losses. Once a problem is detected, it is important to have your chimney inspected right away. If you are just starting to see problems, the actual issue may have been going on undetected for some time. That is why, even if you have not experienced any issues, you should still have your chimney inspected annually to prevent costly repairs.
It is also a good idea to get an inspection if you are considering any home renovations. If you are looking to upgrade or replace your heating system, you need to find out if your chimney can handle the venting requirements. If your chimney has gone for long periods of time without use, it's a good idea to get an inspection. An animal or bird may have built a nest inside your chimney flue without you knowing. Their nest can clog your chimney, posing a serious safety hazard. Winter freezing and thawing can also do major damage to masonry and liner materials over time. Weather damage can eventually affect the structural integrity of your chimney.
When do you need a chimney inspection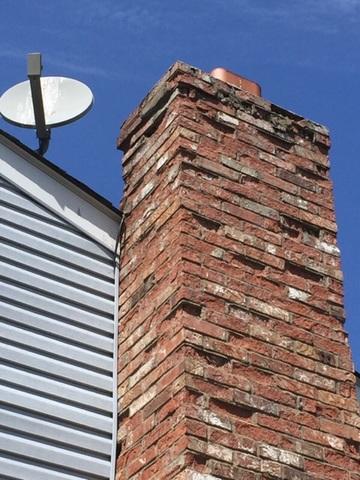 Sometimes a chimney's condition is visible and sometimes it is not. It is best to have a professional inspect your chimney to find out for sure.
While it's best to include a chimney inspection as part of your annual home maintenance plan, there are other times when a chimney inspection is necessary, such as:
When you are considering to buy or sell home
When a storm, fire, or natural disaster, has caused damage to your property
When you are undergoing masonry repairs on your home
When you are purchasing a new insurance policy
When you are installing a new heating appliance
If our inspection of your chimney indicates that your chimney needs repair, we can help! As experts in masonry restoration, chimney sweeping and much more, we can handle whatever chimney repair services you need.
Levels of inspection
We follow the NFPA's inspection levels as defined by NFPA 211 (Standard for Chimneys, Fireplaces, Vents and Solid Fuel Burning Appliances). Below are explanations of the levels of inspections that we offer and the services that are typically performed for each level.
code NFPA 211 (Standard for Chimneys, Fireplaces, Vents and Solid Fuel Burning Appliances) - See more at: http://www.csia.org/homeowner-resources/chimney_inspections.aspx#sthash.RFVPd6qt.dpu
Below is an explanation of the three levels of inspections and what services your chimney service technician should provide for each level as defined by the NFPA 211: - See more at: http://www.csia.org/homeowner-resources/chimney_inspections.aspx#sthash.RFVPd6qt.dpuf
Level 1
This inspection is mostly used as a preventative measure, making it the most common type of chimney inspection. Our experts will perform this inspection on a chimney system that has not had any changes to it. During a Level 1 inspection, the technician will inspect all accessible parts of your chimney.
Level 2
In a Level 2 inspection, the technician will inspect the same aspects that we would in the Level 1 inspection, plus other areas in the home, such as the attic, basement or crawl space. A video camera is sometimes utilized to check hidden areas of the chimney structure. A Level 2 inspection is required when there has been damage or changes done to your property. If your home has undergone any changes, such as a new appliance or fuel type or relining of the flue you will want to know if your chimney can handle the ventilation required for the new system. This type of inspection is also required for the sale of a home.
Catch problems early and get your chimney inspected today!
When you contact the masonry experts at Bone Dry Roofing we will make sure that your chimney is safe so that you can focus on enjoying your fireplace. Call today to have your chimney inspected by one of our certified professional chimney sweep technicians in Fairfield, Loveland, West Chester, Middletown, Mason, Miamisburg, Ft Mitchell or nearby.
Looking for a price? Get a no cost, no obligation free estimate.