Expert Roof Cleaning in Cincinnati and nearby in Ohio
Enhance the lifespan of your roofing system and keep it looking its best with quality roof cleaning services in Greater Cincinnati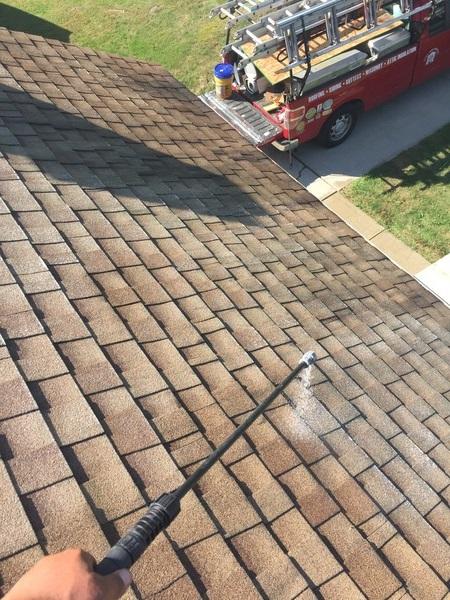 A professional roof cleaning from expert roofers doesn't only improve appearances, but it keeps your roof healthy and functioning as well.
Is your roof looking worn and have you noticed stains on the shingles? Has there been any algae or moss growing on your roof? While you may think that these are just things you have to deal with when owning an older roof, we have a way to help!
Dirty roofs can lead to damage that will cost homeowners time and money. At Bone Dry Roofing, we provide quality, professional roof cleaning services that will make your roof look brand new and enhance it's longevity. Call us today at 1-844-385-8388 or click below to get started on restoring your dirty, stained roof. We offer free estimates in Dayton, Cincinnati, Hamilton and the nearby areas.
The benefits of cleaning your roof
Stops algae from deteriorating your roof
Increases appearances and value
Lowers home energy costs by removing heat absorbing dark algae
Maintain your warranty with our soft wash process that doesn't require a power washer
Cleaning services include a roof inspection to identify leaks or other problems early
We are one of the few roofing contractors in the Midwest to offer roof cleaning services. During the process we make sure that your house, yard, and landscaping will always be protected. When we are finished, your home will be in better condition than when we arrived!
Call us today to experience a clean roof protecting your home
If you are looking to give your home a clean roof that looks amazing and will also last longer, call the professionals at Bone Dry Roofing today. We will provide you with a wide range of roof repair services, giving you the best solution for your home.
Call our specialists today at 1-844-385-8388 to get a free estimate on expert roof cleaning and all our other services. We proudly serve in Cincinnati, Dayton, Hamilton, Middletown, Fairfield, Loveland, Ft Mitchell, Mason, Miamisburg, West Chester and throughout the surrounding areas.