Providing Roof Inspections in the Greater Cincinnati Area
Confirm that your roof is in its best condition with a roof inspection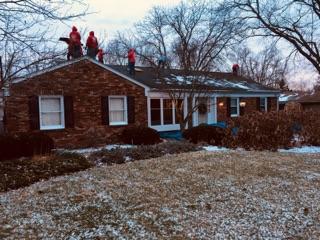 If you are thinking about selling your home or have just had a storm come through, getting your roof inspected is a good idea.
It's only a matter of time before any roof becomes weathered enough to need repairs or replacing. In order to stay on top of your roof's condition, quality roof inspections are recommended. It is most common to get a roof inspection during the selling process of a home, but roofs that are older or have been through episodes of heavy weather can benefit from an inspection as well.
Bone Dry Roofing provides comprehensive roof inspections as well as roof certifications to give peace of mind that your roof's structural integrity is still intact. We carefully evaluate every detail of the given roof to identify any points of interest that require repair or replacement, so that you can claim that the roof of your home is in the best condition to a potential buyer or so that you can rest easy yourself.
If you are needing a roof inspection to evaluate your home, call us today at 1-844-385-8388 or click below to get started. We provide our quality roofing services in Dayton, Cincinnati, Hamilton and throughout the nearby areas in Ohio.
We go over all aspects of your roofing system
When we arrive for your roof inspection, you can be sure that every detail will be thoroughly evaluated. Our roof inspectors check for all of the following:
Missing or damaged shingles
Weathered shingle granules
Worn or cracking caulk
Damaged or absent flashing
Worn out or rotting pipe boots
Rotted wood decking and sagging boards
Cracked and missing mortar in the chimney
Failing gutter systems
When our inspection is finished, you will have the confidence that your roof is still structurally strong and will continue to protect your house.
Get a complete and thorough roof inspection today!
If you are looking for a roof inspection for your home, call your local team of expert roofers at Bone Dry Roofing today. We will provide you with a complete inspection and certification for all types of roofs, and we can provide quality repair work if needed.
Call us today at 1-844-385-8388 or contact us online to find out more about how we can provide services to help you answer your roofing problems. We provide all our high-quality roofing services in Cincinnati, Dayton, Hamilton, Fairfield, Loveland, West Chester, Middletown, Mason, Miamisburg, Ft Mitchell and all across the surrounding areas.
Looking for a price? Get a no cost, no obligation free estimate.