Ridge Vents & Roof Ventilation Services in Ohio
We install and repair soffit, gable & ridge vents for proper attic ventilation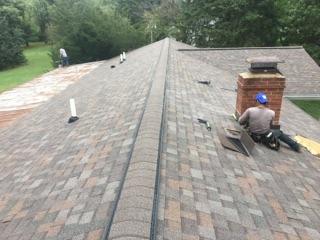 On traditional roofs, the ridge vent is covered by shingles for protection. The warm air being held in the attic rises to the roof peak and escapes outside through the ridge vents.
If you asked homeowners what their major concern for their roofs is, they would say leaks. Most overlook the fact that poor ventilation can cause just as many problems for your home as leaks. A well-ventilated roof will make life easier and better for those living in the home. Proper roof and attic ventilation often lowers your heating and cooling costs, improves the overall comfort of the home, and lengthens the lifespan of your roof's shingles.
During the summer, a properly ventilated roof allows the hot air in your attic to escape. This reduces the wear and tear on your air conditioning system. During the winter, ventilation combined with the proper amount of attic insulation will keep the roof surface cold, so that the snow that has built up on your home won't melt and then freeze to form ice dams along the eaves.
Bone Dry Roofing installs and repairs ridge vents and other types of roof vents. We are Greater Cincinnati's expert roofing contractors for roofing solutions that include roof repair, roof replacement and more. Contact us for a free quote for ridge vent installation in Cincinnati, Dayton, Hamilton and throughout Ohio.
Types of roof vents
There are several different types of roof vents as well as different methods for achieving effective roof ventilation. Here's a brief overview:
Add roof vents to ensure a long-lasting roof over your head
If your roof is lacking adequate ventilation, ask a roofing specialist about improving your roof ventilation with ridge, soffit or gable-end vents. All of these roof vents can be installed in an existing roof, or when your roofing is being replaced.
Our roofing contractors at Bone Dry Roofing can help you choose the right type of roof vent system for your home. We can repair or install roof vents and improve your attic ventilation. We offer all our professional roofing services throughout Greater Cincinnati, including Cincinnati, Dayton, Hamilton, Fairfield, Loveland, West Chester, Middletown, Mason, Miamisburg, Ft Mitchell and nearby. Call us at 1-844-385-8388 to get a free quote on any of your roofing needs.
Looking for a price? Get a no cost, no obligation free estimate.